LOCATION, PUBLIC TRANSPORT AND PARKING
Location
We are located in the city centre of Rotterdam at Hoogstraat 38a, a five minute walk from the Rotterdam Markthal and its parking garage (like parking garage Kiphof or Oostplein). As we are located between both trainstation Rotterdam Blaak and Oostplein metro station, we can also be easily reached by public transport.
Address: Hoogstraat 38a, 3011, Rotterdam
Public Transportation
There are different ways to reach Music Production Academy.
If you travel with public transportation, then the metro station of
Oostplein is a 2 minute walk away and the trainstation Blaak is a 7
minute walk away. For travel advice you can check 9292.nl.
Car
If you choose to come to Rotterdam by car, then it is good to know
that parking zones are used in Rotterdam. The location where MPA is
located in the red area on the map below. A higher parking rate
applies here. If you drive down Hoogstraat, you will arrive in the
yellow area where parking fees are lower.
We advise to park your car on the other side of the Goudsesingel, close to the Dirk van den Broek. This is a 3 min walk from MPA and parking is free from Monday – Thursday in the evening from 18:00. This means free parking if you have a Masterclass or lesson during the week.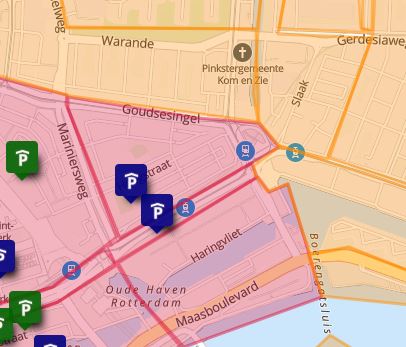 To contact our office, please fill in the form to e-mail us directly. We will get back to you within 2 workdays. We can also be contacted by telephone between Monday to Friday from 10:00 AM until 6:00 PM. If you wish to contact us through social media, please check the social media links at the bottom of this page.