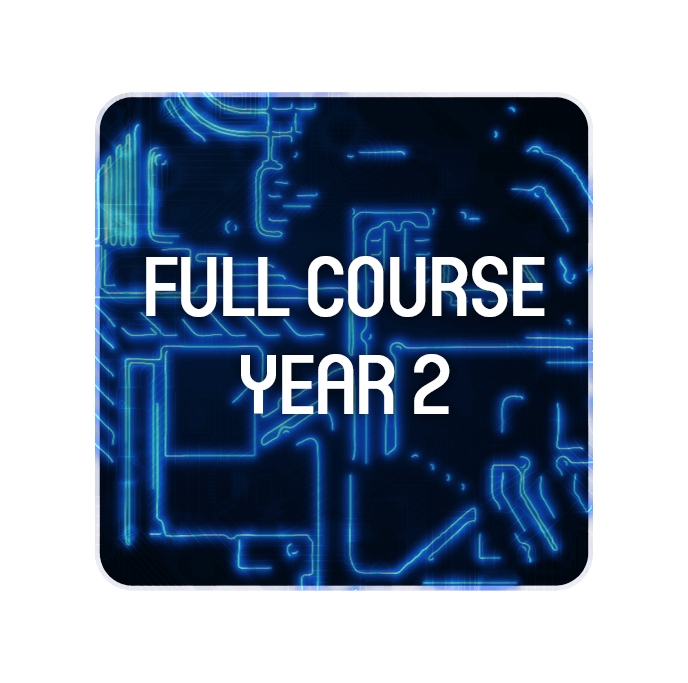 the next step in your career
In the first year of the Full Course you went from passion to production. In this year of the Full Course we want to make sure that from production to professional will be the main focal point. The second year will offer all of the essential tools to create your own sound and identity as an artist. We want to offer you the foundation on top which you'll build your success as a professional.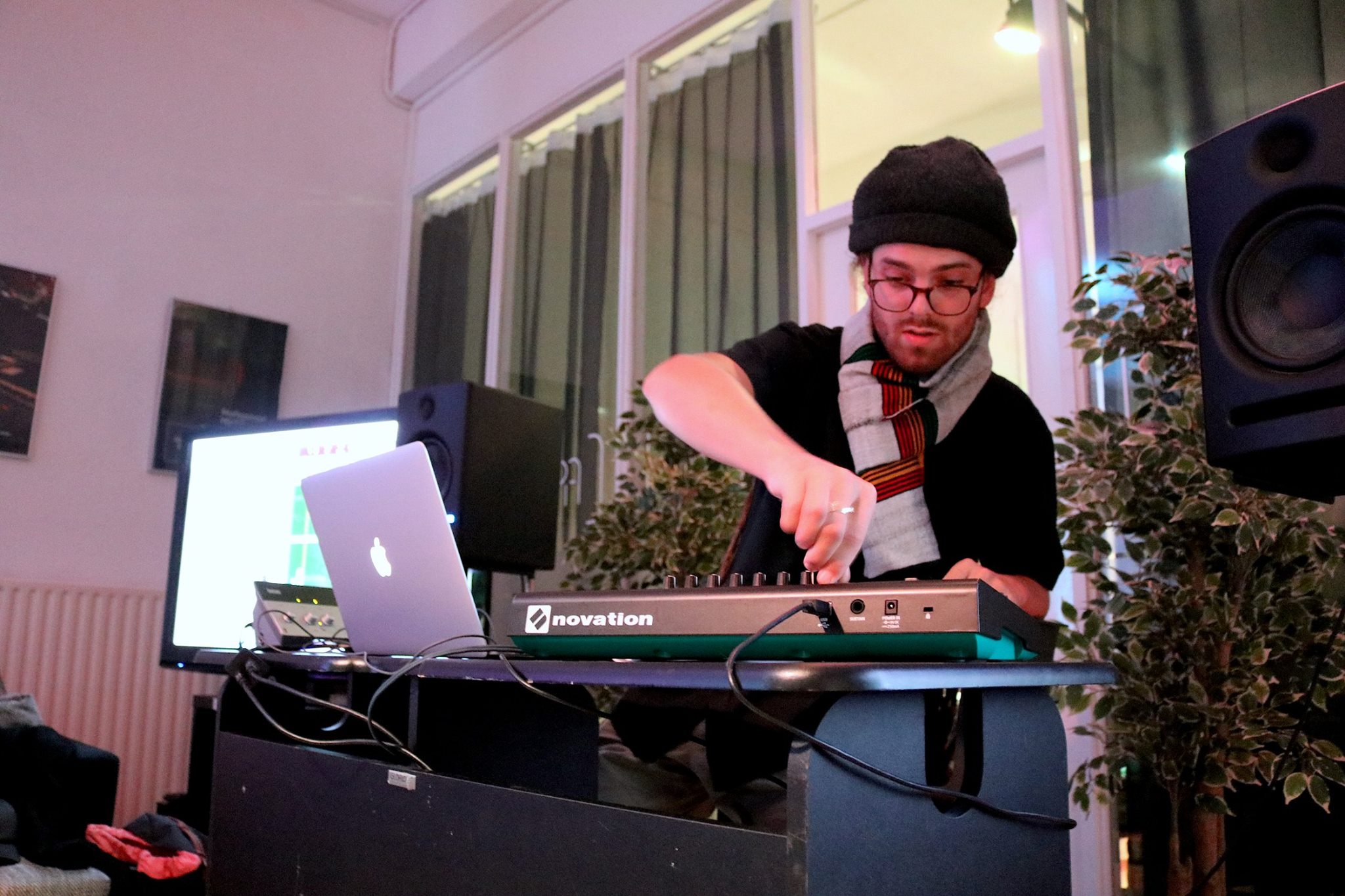 "In Full Course year 2 you'll be working together with other students to grow to your full potential as an artist. That means you'll get greater width and deepening of the subjects you want to progress in."
MORE ABOUT INTRODUCTION
Wherein the first year of the Full Course the characteristics of producing were covered, in the second year we're going to work on your development as a producer, composer, audio engineer and performing artist. The subjects you already gained knowledge of will be deepened among these subjects you'll find advanced mixing, compositions and sound design. Furthermore you'll be made ready to be a professional artist with lesson such as music law, music marketing, artist development and live performances. During the lesson you'll be taught by our instructors of MPA and you'll get lesson from specialist guest teacher from all over the musical world to help you reach your potential as an artist.

MORE ABOUT HARMONY & SONGWRITING
It's relatively easy to create a few loops which your happy with. Creating a dynamic track and getting the right attention span with this loop is a much bigger challenge. In these lessons you'll get practical lessons about making song,  where there will be a lot of attention for harmonics and writing compositions and vocals.
You and your classmates will be going to the studio with a vocalist and you'll be applying the lessons in practice.  You'll learn how to correctly utilise hooks, basslines and more creative techniques to your music to give it the crucial structure it needs. With these lesson you'll be strengthening your foundation to get your track to the next level.


MORE ABOUT COMPOSITION FOR VISUALS
When you're creating compositions for visuals you'll apply the skills you've learned for challenging audio projects. The making of a soundtrack or a score offer a professional producer the opportunity to generate a lot of income in the audio-visual branche. The guest teacher that is specialised in this area will share his past experiences, his knowledge and they'll show you, on the spot, how they work on their projects in music for film, advertisements and games. Afterwards you'll get a practical assignment about the skills you gained from these lessons and the lessons about Harmony and Songwriting to realise a fitting soundtrack.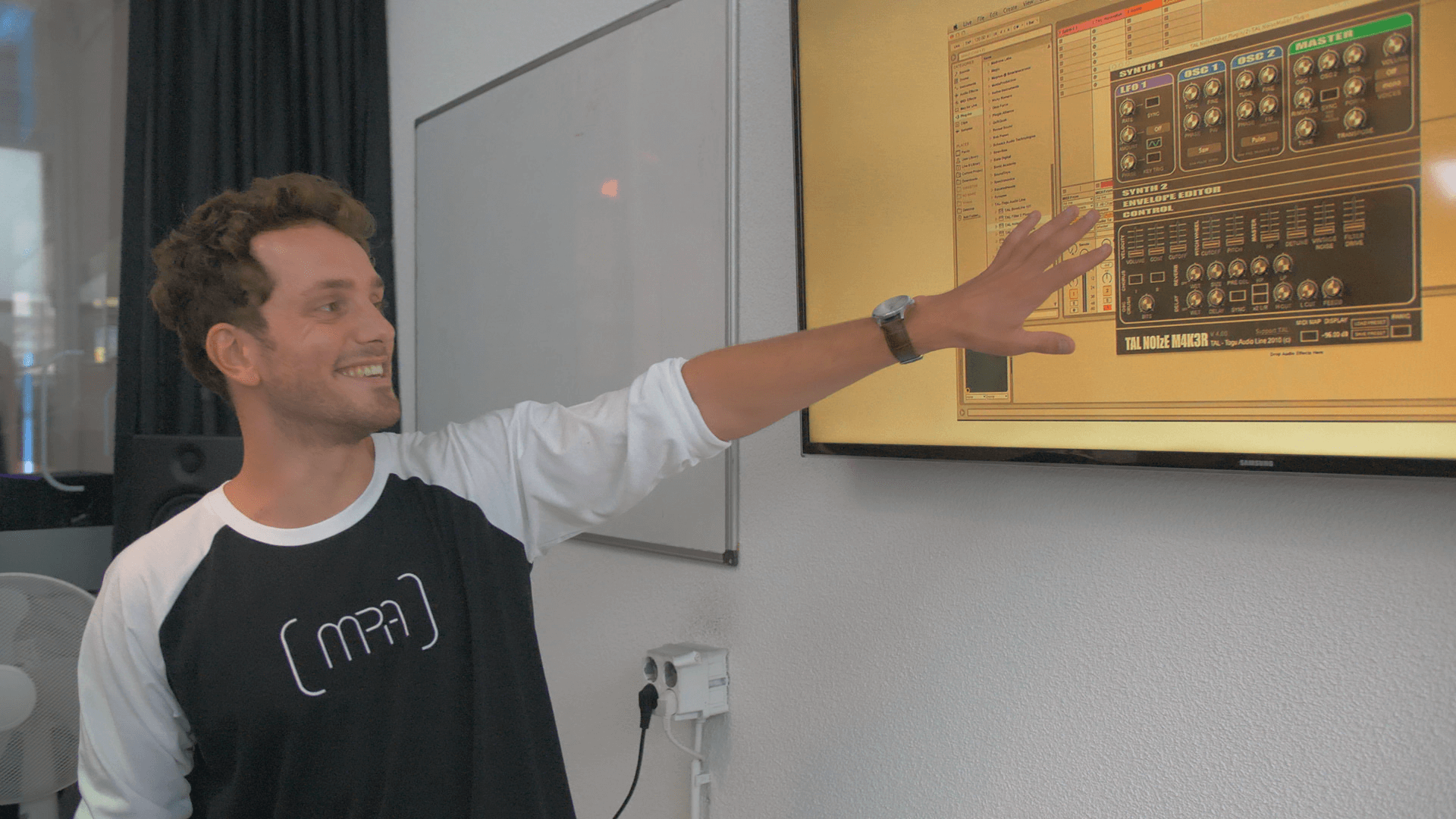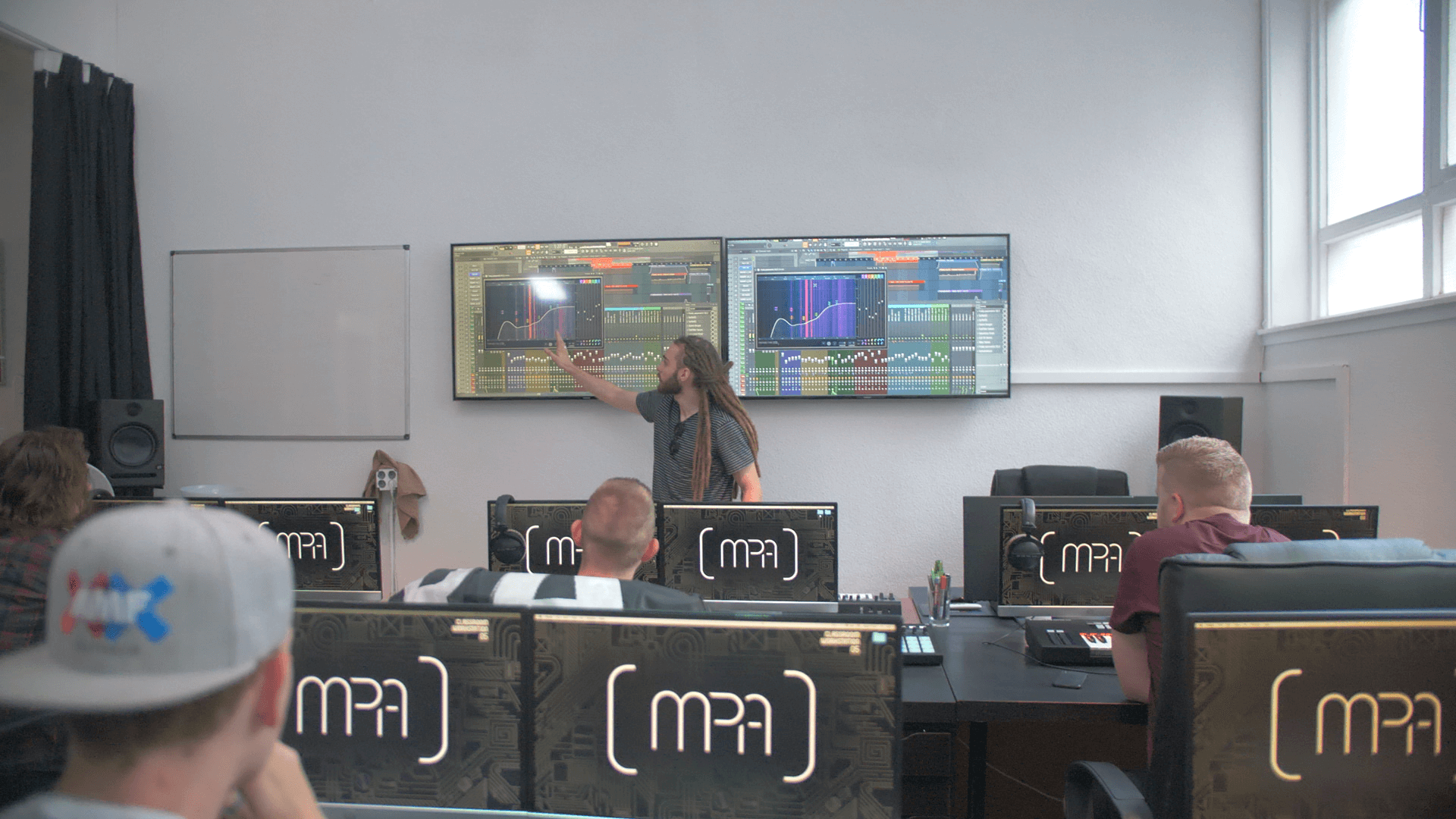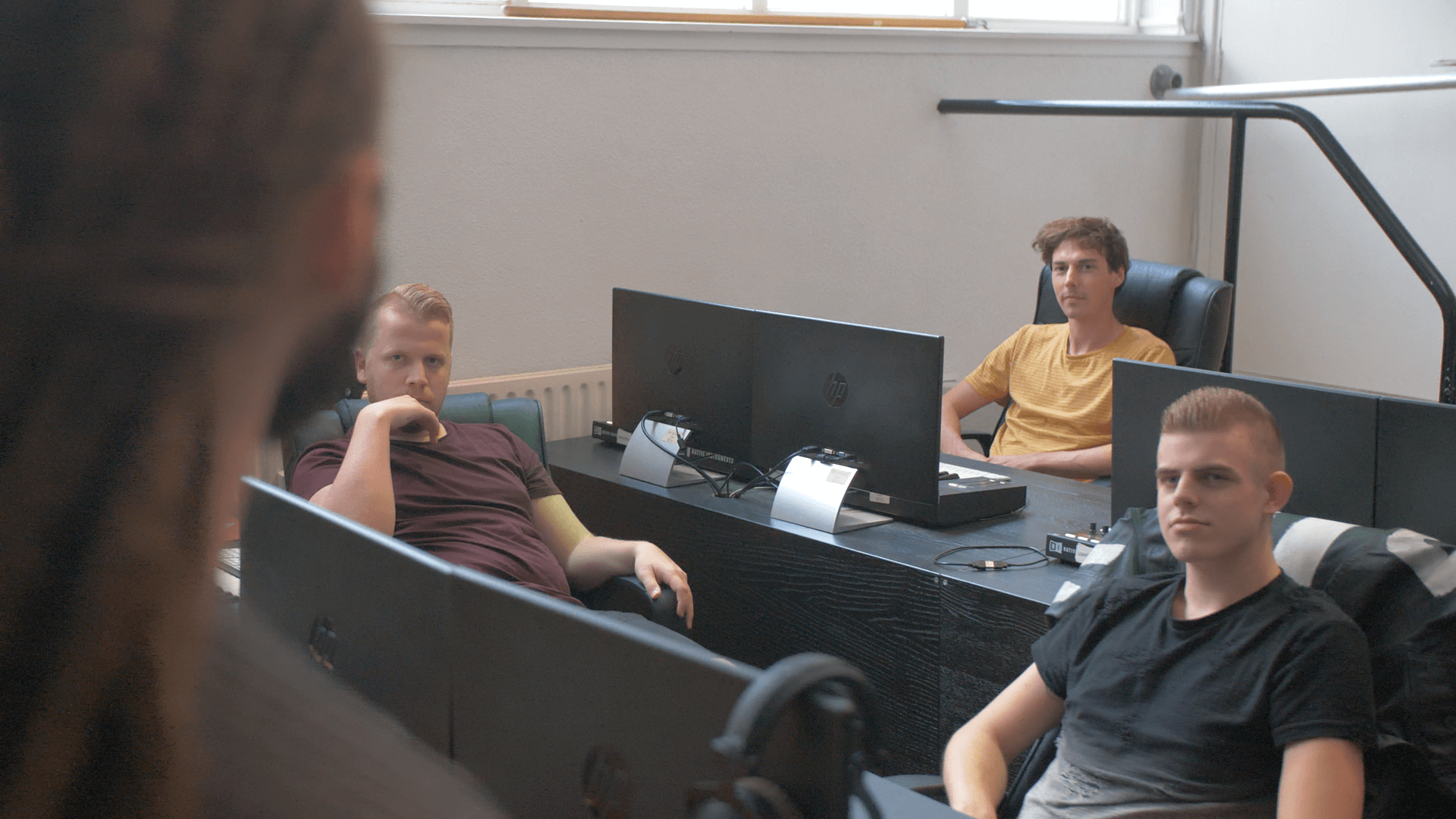 MORE ABOUT MASTERING
Of course you want your released tracks to jump out next to the tracks of other producers. Most of the time the secret to this is the right mastering. With the practical subject matter of a specialised guest teacher you'll be able to train your hearing and you will go further in mastering EQ, (multi-band) compression, limiting, mid/side compression and much more. Furthermore as an assignment you will be mastering a track of one of your fellow students. We want to make sure you can give your own tracks as well as the tracks of others the right 'edge' when you're mastering.
MORE ABOUT ACOUSTICS & MICROPHONES
A subject which you can't underestimate within producing. While mixing and performing with your music you got to adequately keep the acoustics into account. During these lessons you'll get practical tips about placing the right sound isolation, the best way to apply acoustic material and its characteristics will be discussed in the lessons. You'll also learn about making right calculations for reflections and standing waves. That way you can let the acoustics work in your favor in the studio or on the podium.
Sharpening your knowledge about microphone techniques when recording will make a huge difference in the end result of your studio recordings. With the knowledge you already possess about the usage of microphones we're going to go further with teaching  more about the practical and theory about stereo micing. Also you'll get a theory test about this subject where you'll listen to a lot of audio fragments which you have to judge.
MORE ABOUT MIXING
A good mix, in whatever genre, can make the difference between a disappointing amount of plays or being signed by a record label. That's why you'll be jumping in the world of advanced compression techniques, the usage of noise gates en reverb, group mixing, advanced appliance of EQ's and much more subjects during the lesson to make you a professional audio engineer.
In the lessons the teacher will be doing a mix on the spot and your practical assignment will be to make a creative mix of a project. After analysing all of the students their projects, you'll be taking all of these skills to the lessons about mastering.
MORE ABOUT VOCALS & RECORDINGS
Precision, efficiency and a fast workflow. That's what you'll learn about in the Vocals and Recording lessons. As a professional producer it's important to record the vocals the right way and to give them the right place in the mix. But when you put the skills into practice you have to work with a deadline which is as big of challenge as the recording and the mix. For example in these lessons you'll be working with a vocalist and within three hours you'll need to have finished the project. After this assignment you'll have a classical feedback session. That way you'll learn to be more efficient in the studio and you get some valuable experience. You'll also get great feedback from the teacher and you classmates about the end result of your session.
Furthermore you will be getting more lessons about mixing vocals. With special attention towards, creative vocal processing, vocal chops, iZotope vocal synths, vocoders (also with chords) and many more techniques that will be valuable for finding your own style in the usage of vocals. With a personal guidance lesson all the knowledge you've gained about these subjects shall be discussed with you teacher. The teacher puts your personal style choices in mixing central, that way we can work towards your personal sound.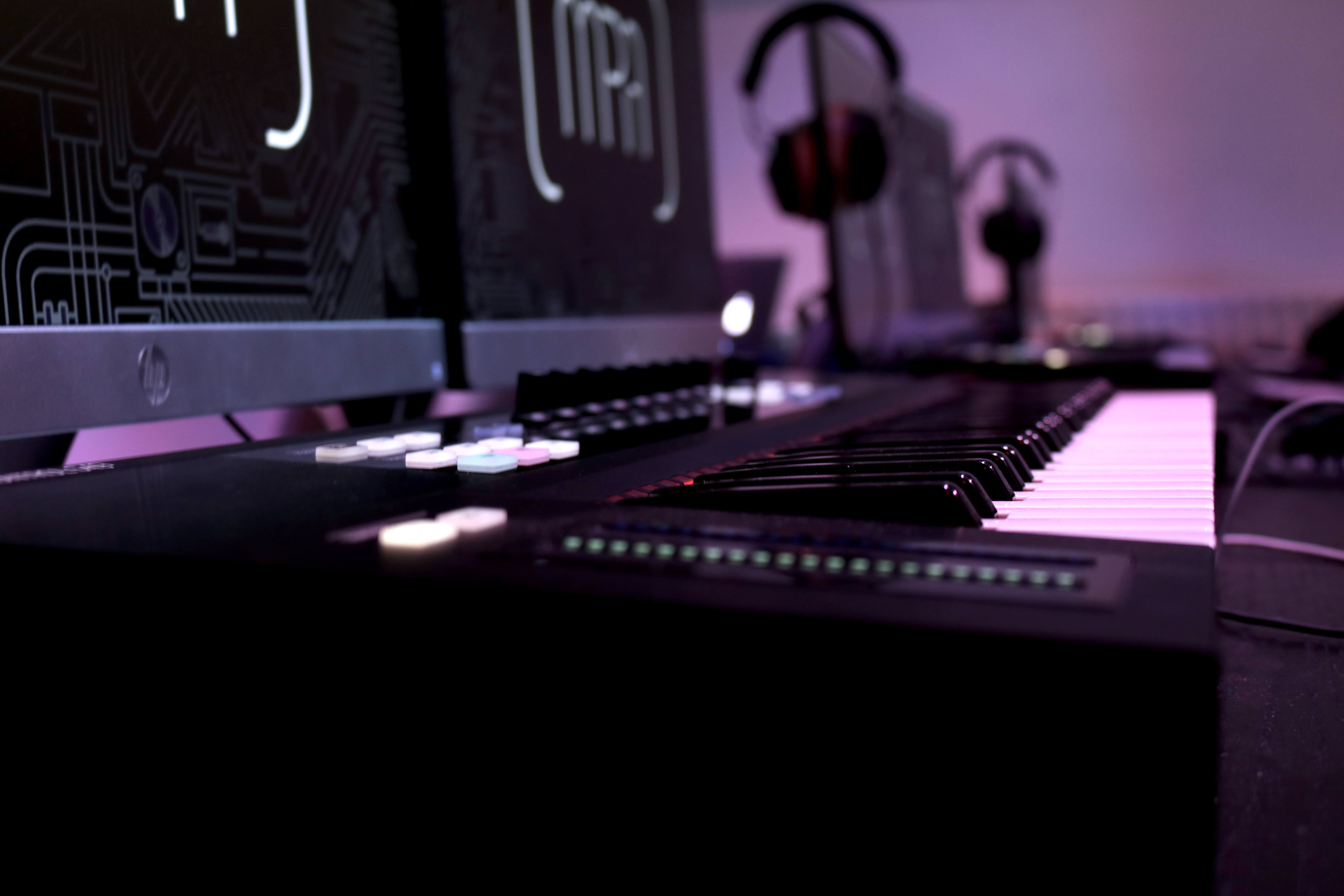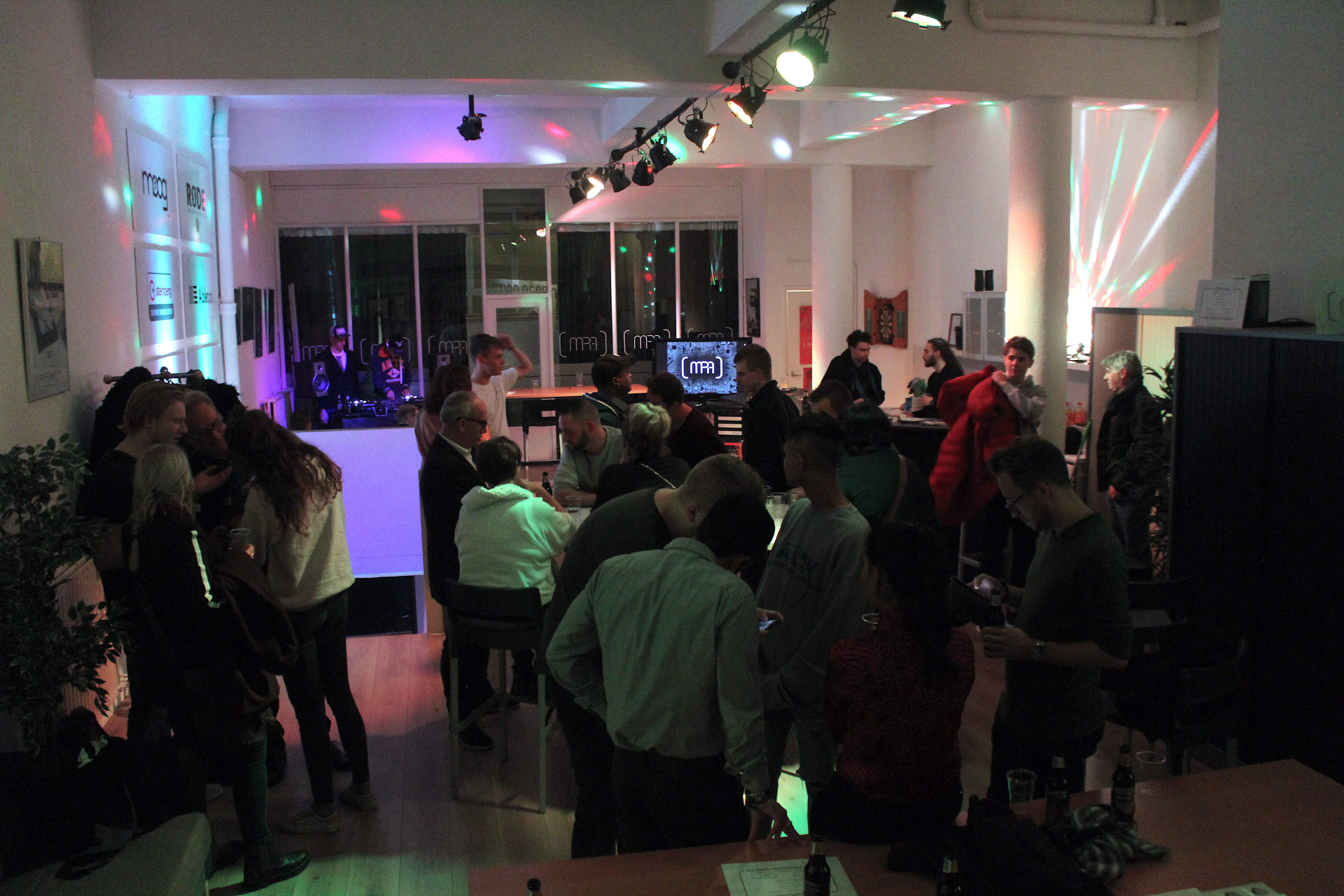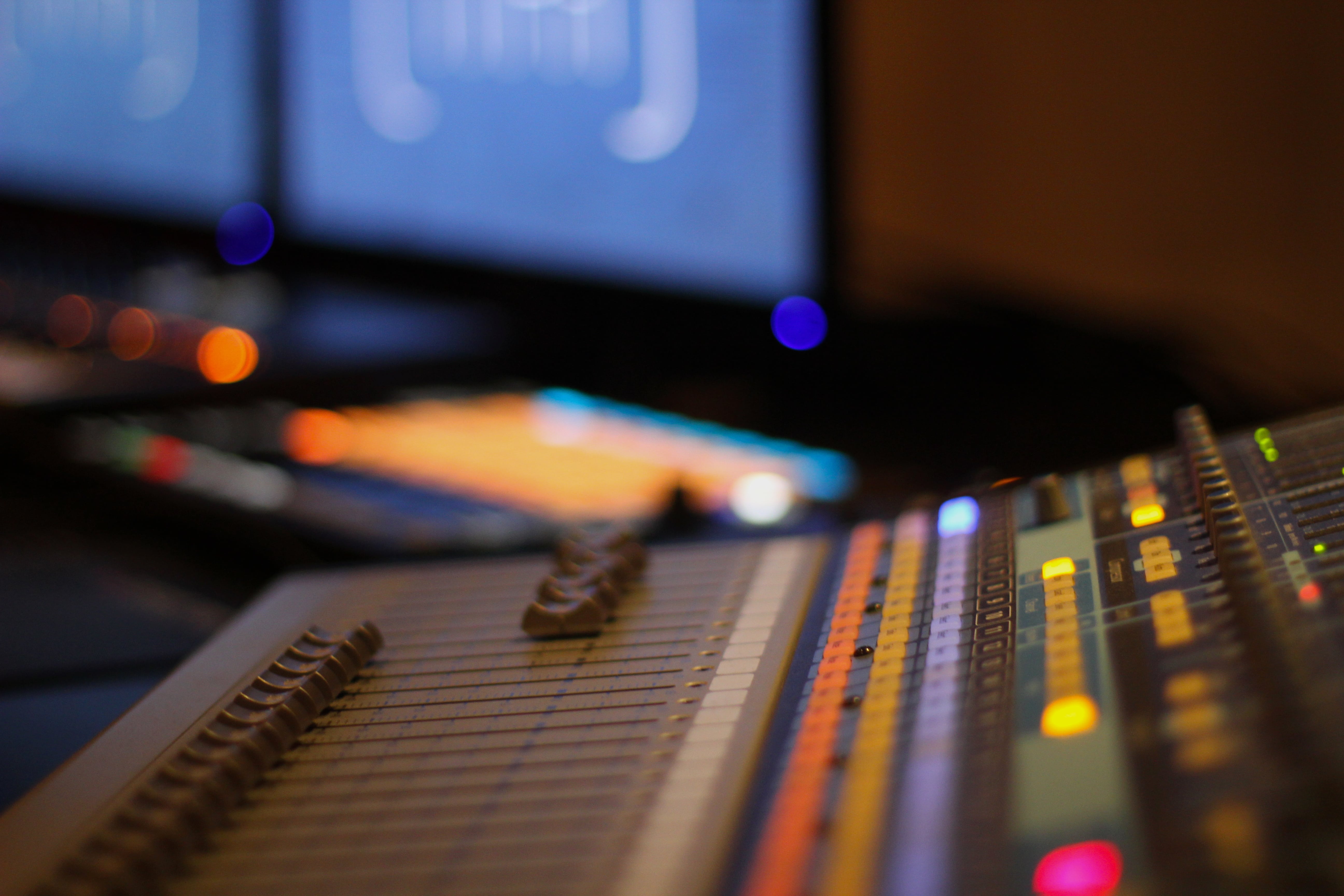 MORE ABOUT SOUND DESIGN
Creating your own sounds is crucial  in defining your characteristic style and unique identity of your act. How do you learn to put the sounds you have in your head into your DAW? What choices are important to get your desired signature sound? During these lessons you'll be searching for personal answers to these questions.
In the practical lessons you'll be working with software synths like Serum and also with vintage or modern hardware synthesizers. Next to that you'll also be getting lesson from multiple guest teachers. All of them are recognised for their knowledge in synthesis and the recognisable sounds in their music. All in all, everything you need to broaden your horizon in sound design with the only limit being your own imagination.
MORE ABOUT SAMPLING
Just like synthesis, sampling is a subject which producers can go deeper in endlessly. In these lessons there will be taught about advanced sampling techniques, with a lot of attention for underlying applications. You're going to work with software samplers and you're going to learn to use sampling with some hardware gear. In the meanwhile you'll be working to make your own sample library bigger and better. These lessons will help you make the right decisions for your music style during your sample selection.
A specialised guest teacher will take you on a trip into the world of advanced sampling. The subject matter will consist of granular synthesis, re-sampling, processing, layering and other approaches that will reinforce your sound by selecting your samples securely and thought out to fit your music.
MUSIC MARKETING & MUSIC LAW
MORE ABOUT MUSIC MARKETING & MUSIC LAW
Lessons from experts in the industry, you'll get all the necessary tools to position your act well on the market. The lessons about music marketing will be about how you can profile yourself on the relevant platforms for a musician. We will learn you to present the perfect pitch to labels. And how you can make a great schedule for your releases. The emphasis will be how to get the most out of your brand to present unique selling points, this will make sure that you will stand out in your respective niche. With this knowledge you can lay a foundation that will help you make the right decisions as a professional artist. So your act can grow to its full potential and generate the right audience as fanbase.
Music law will also be offered in the second year of the Full Course. How do you handle royalties and percentages? What are the legal pitfalls? What are the rights of producers, authors and executing artists? Next to the answers of these questions there also will be a lot of attention paid to record labels, music publisher, BUMA/STEMRA, SENA and you'll get advice about how to best protect your artist name and which method works best for negotiating contracts.
MORE ABOUT ARTIST DEVELOPMENT
Optimally presenting yourself as an artist in the beginning of your career is invaluable. How do you present yourself in the club? How do you profile your act online? What are the "do's & don'ts" during networking? The DJ's and producers that have build an international brand share their tips and experiences around this subject. They'll explain in their presentation how that has helped their careers.
As an assignment you'll be researching a, by you, respected artist and you'll analyse how this act has made the right choices to come where they are now. The guest teachers will also spend time on tips in radio and media presentation. The experienced experts will help you with advice about collaboration with musicians during studio sessions and on the stage.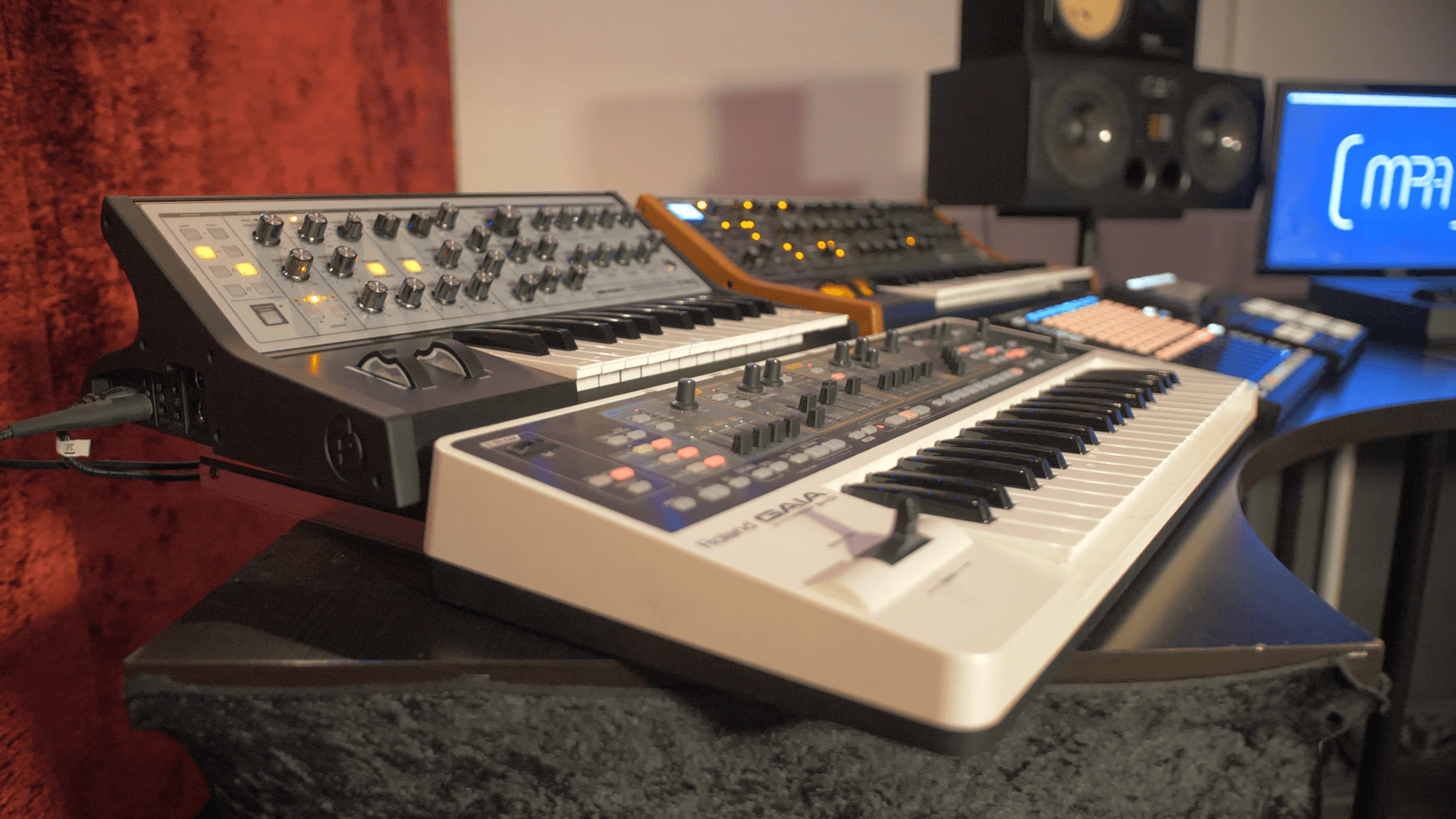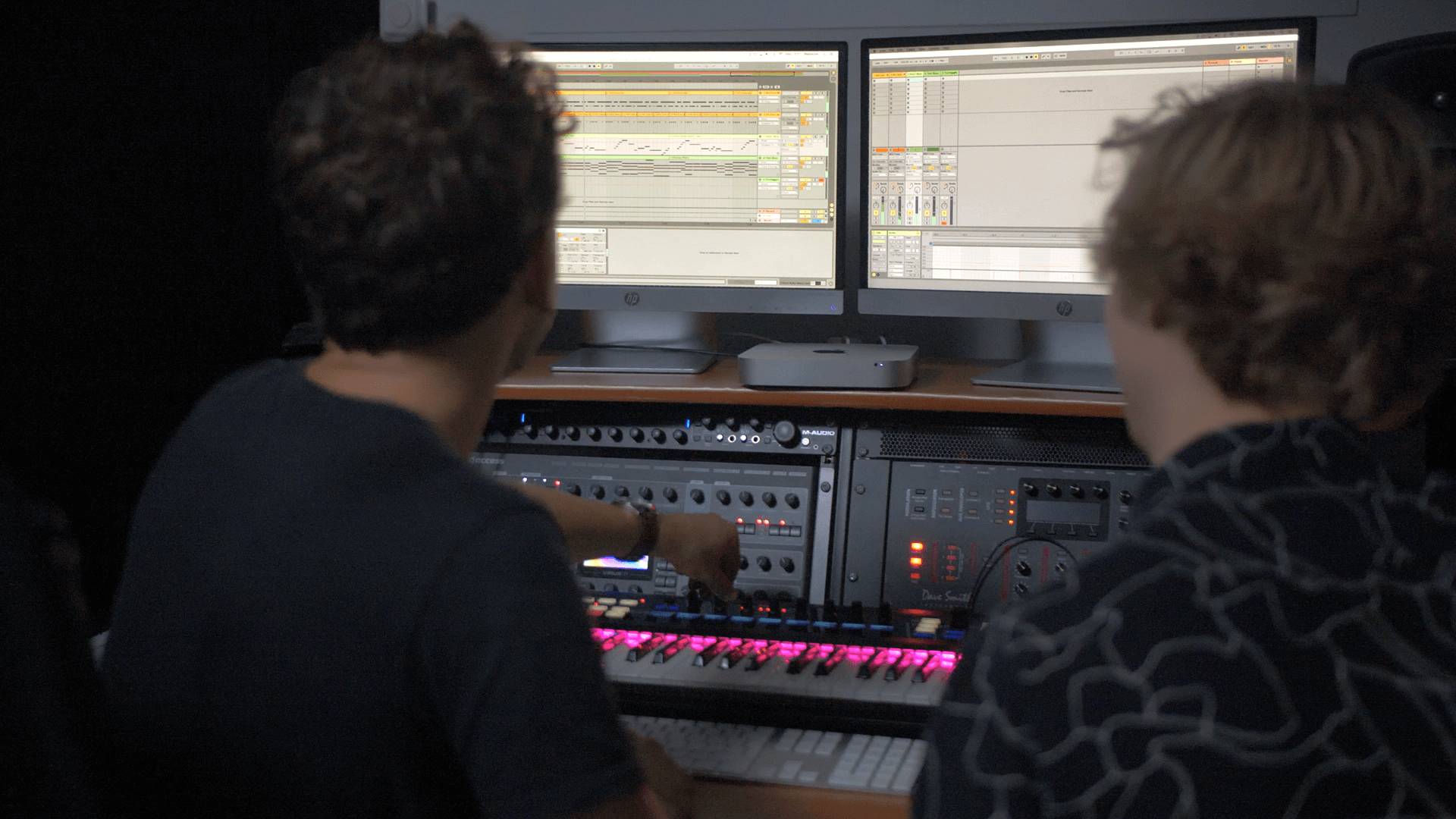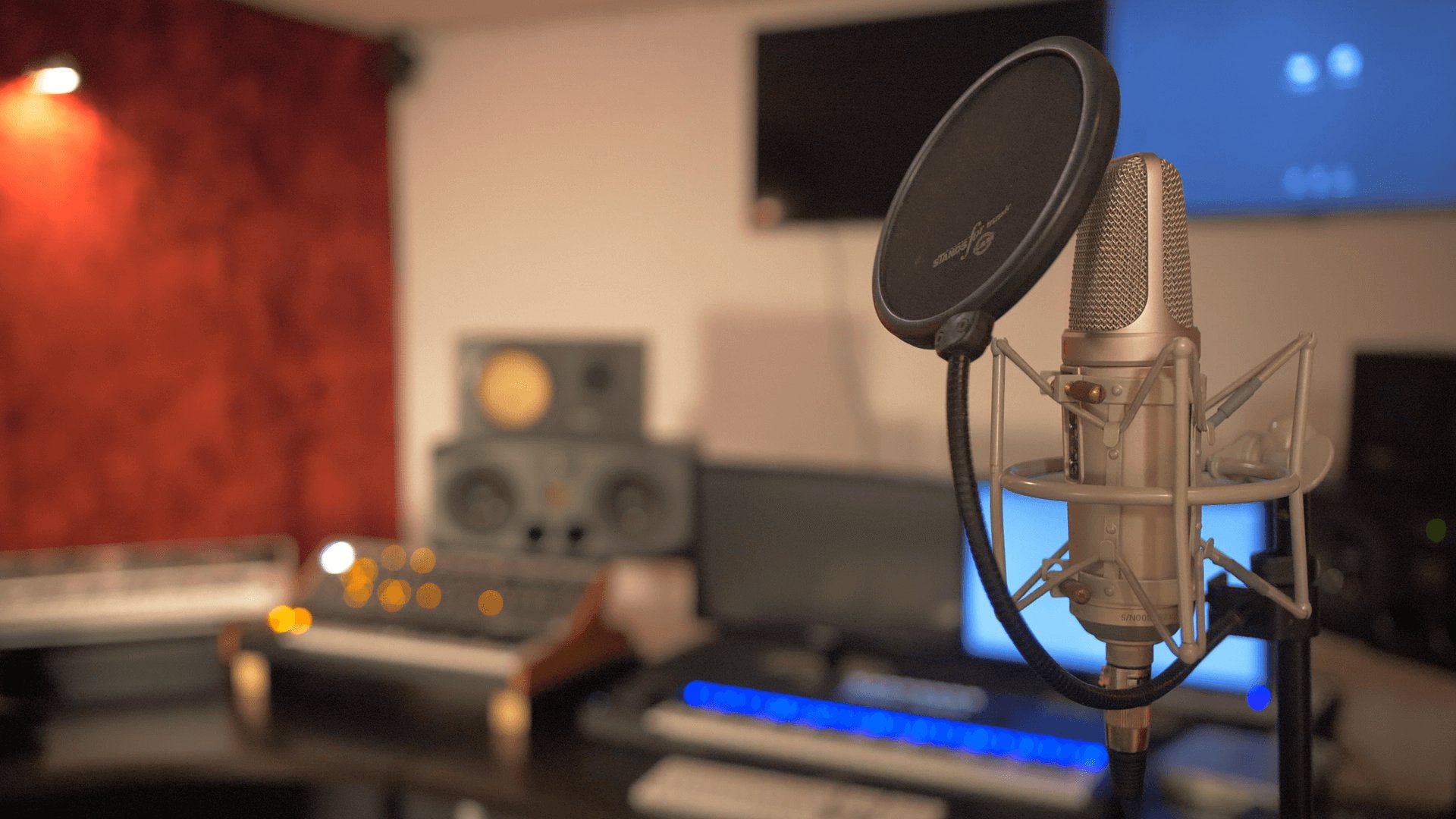 MORE ABOUT LIVE PERFORMANCE
While you'll go deeper in the art of your speciality. The possibilities in shaping your performances will grow constantly. In this phase of the Course you'll be going further with the teachers how to innovatively build your performances from scratch to become a dynamic live set with thoroughly thought out hardware. Also you'll be finding inspiration when you have to research other live performers.
A good live show is a definitive added value for an artist. By diving deeper in the innovative world of live sets. These lessons by experienced artists will help you see the full picture as an artist. With the added value you'll be able to have a deeper connection with your audience, realise more successful bookings and get your act to the right podia.
PERSONAL GUIDANCE & FINAL PROJECT
MORE ABOUT PERSONAL GUIDANCE & FINAL PROJECT
In the last phase of the Full Course 2 the skills and knowledge you've gained over the past year are the main vocal point. You'll choose a project that has been entirely produced, arranged, mixed and mastered by you. You'll have to make a plan for the release of this project. So you can use the knowledge you've gained during the lessons of artist development and music marketing to pitch your song to the right labels and online platforms. To realise the idea of releasing your own tracks well.
We'll take the quality of your track, the way you apply the theory you've learned in the lessons and the effort you've put in to the project will be taken into the consideration in your judgement of the final assignment. Not only will this lead to your certificate for the Full Course year 2, it will also be an important step in the growth of your career as a professional artist.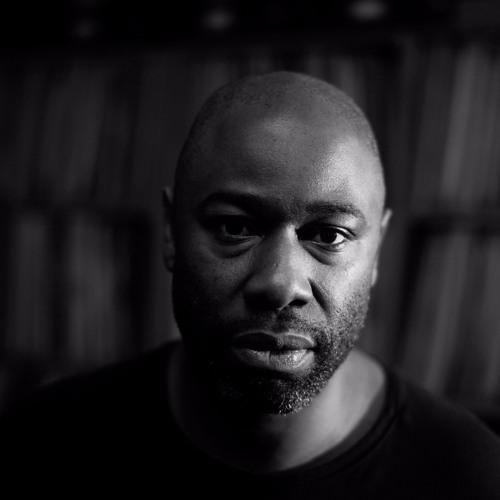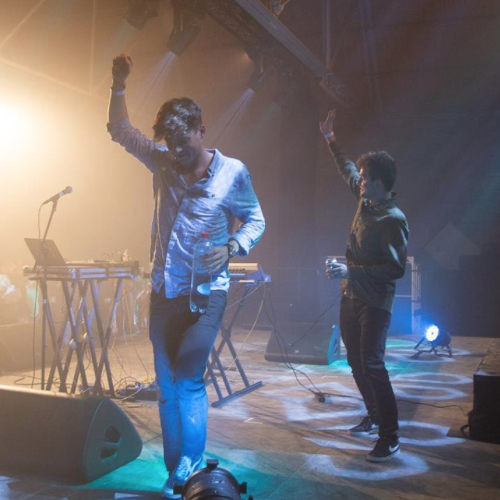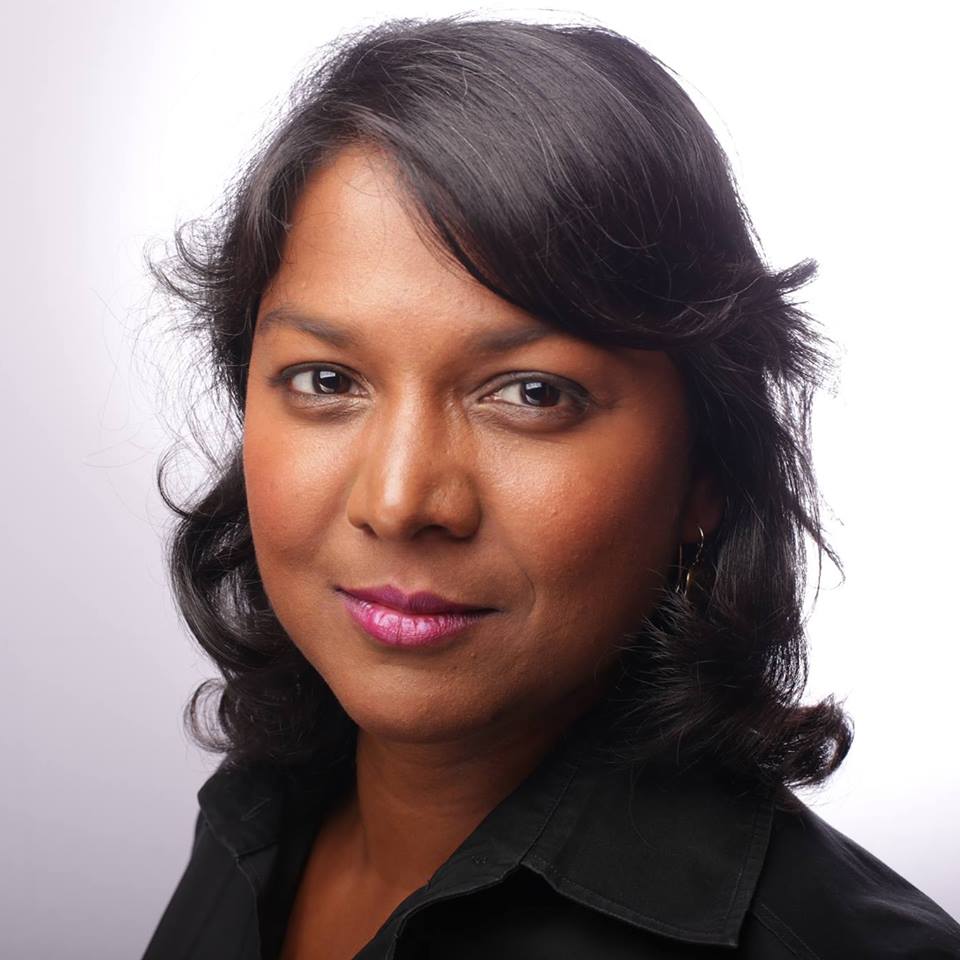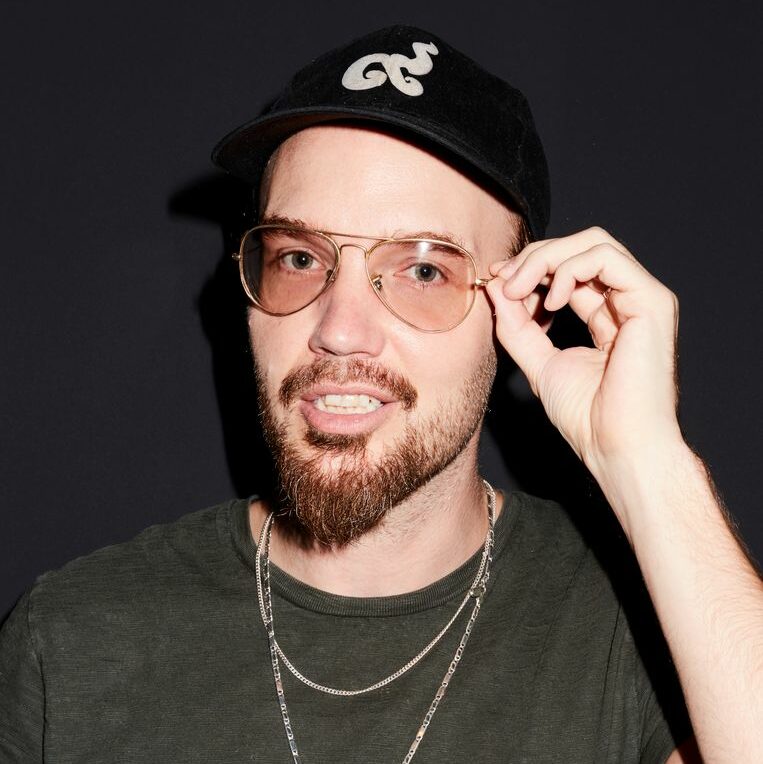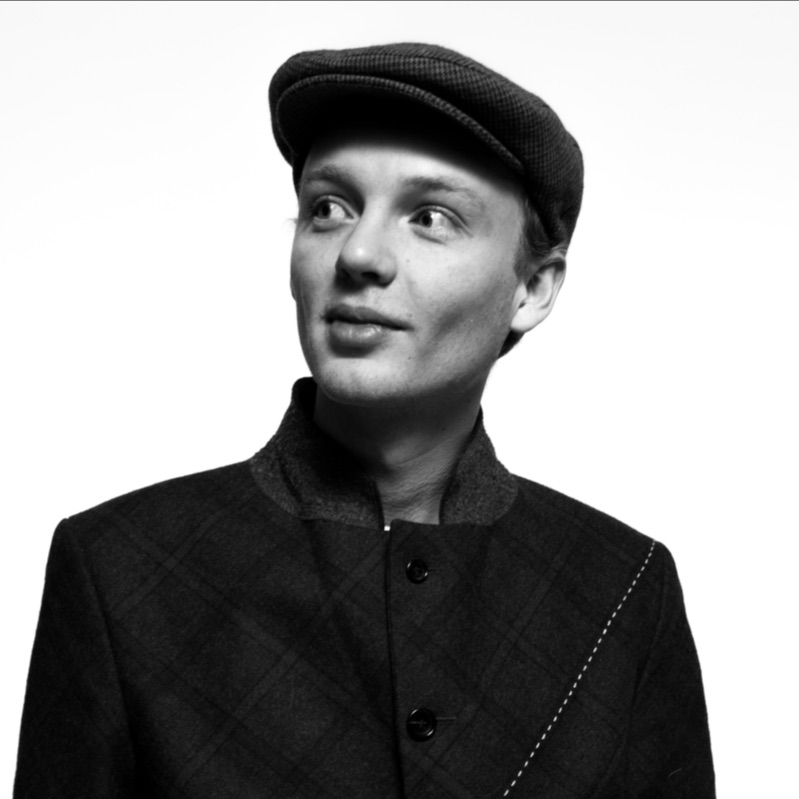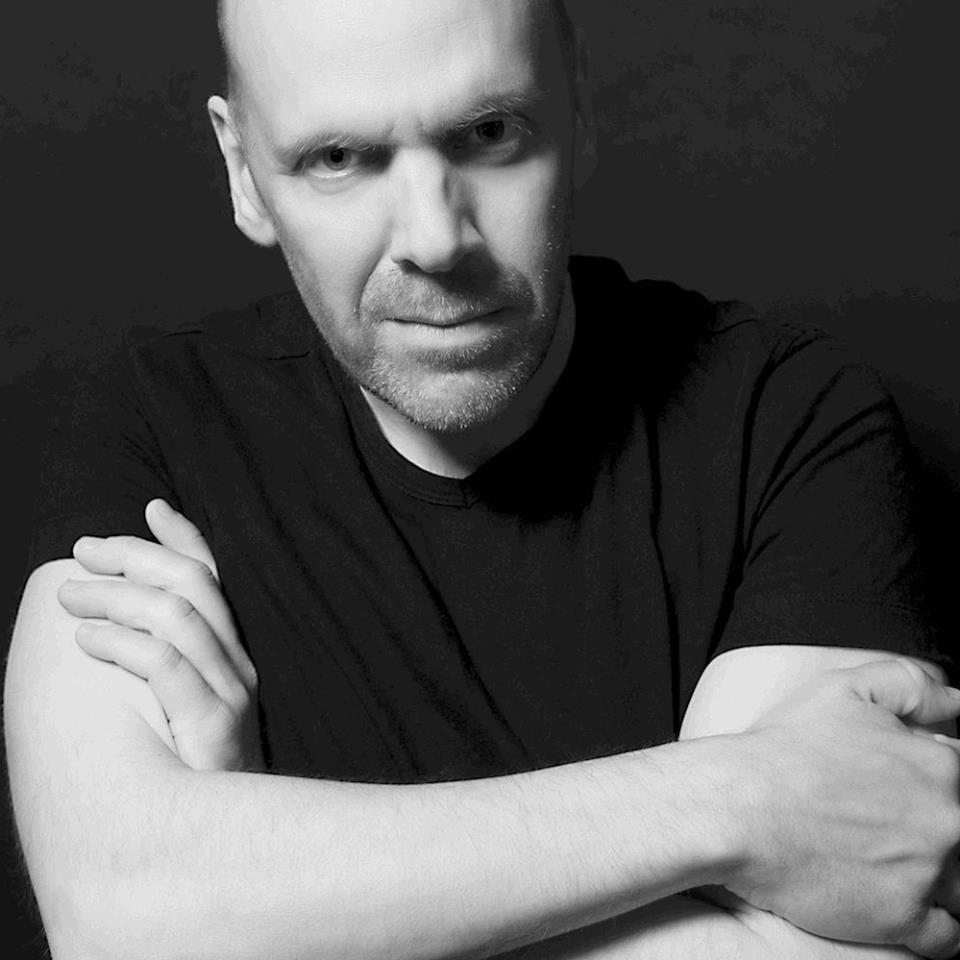 days and times of classes
The Full Course 2 starts two times a year: in March en in September. The times of the lessons in March are on Thursdays from 12.00 – 15.00.
The study load for this Course is 15 hours per week. The study load can vary per student and includes the hours of lessons to be followed at our school. During a free intake you can ask our teachers for more information about the study load and further content of this Course!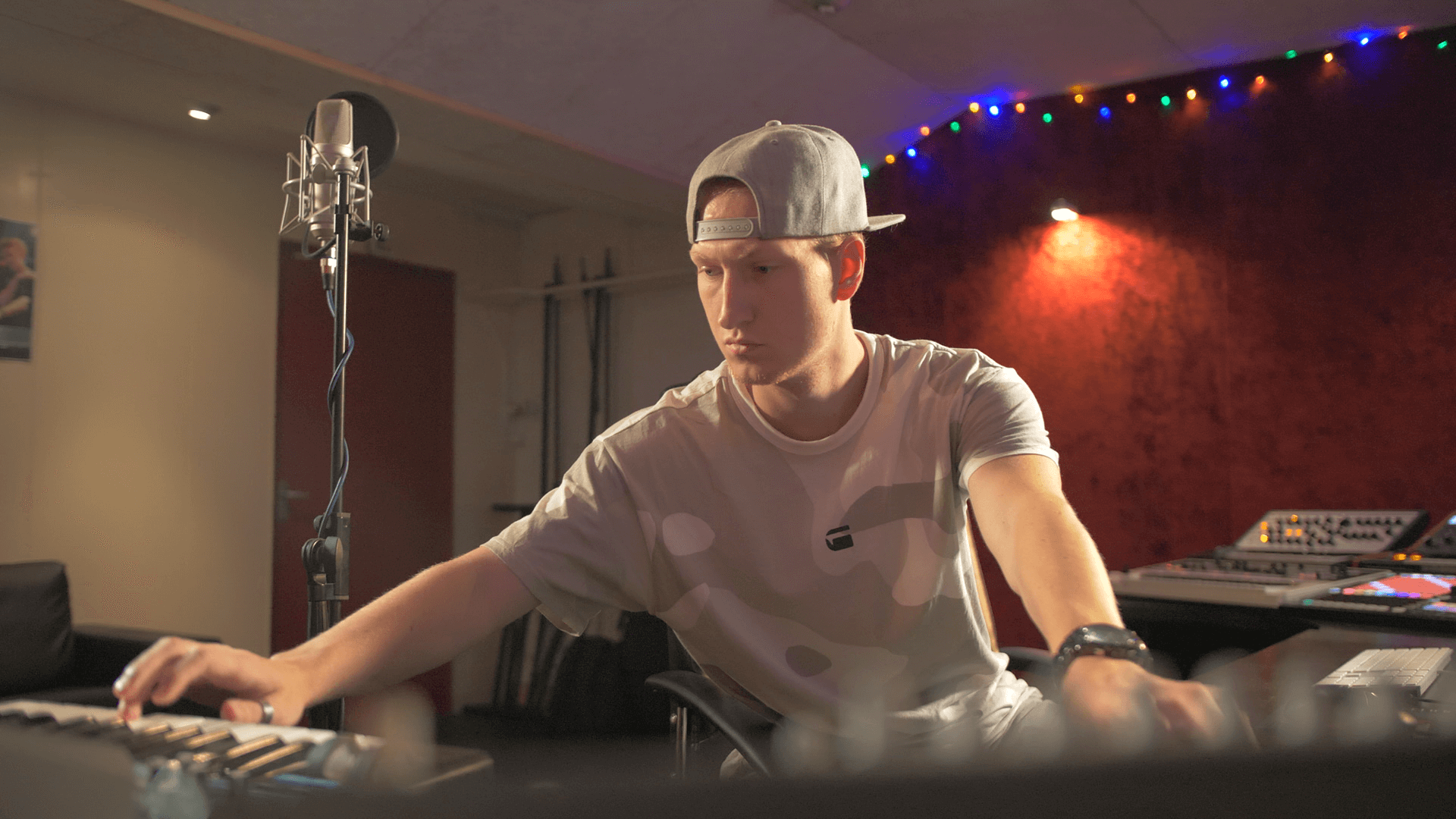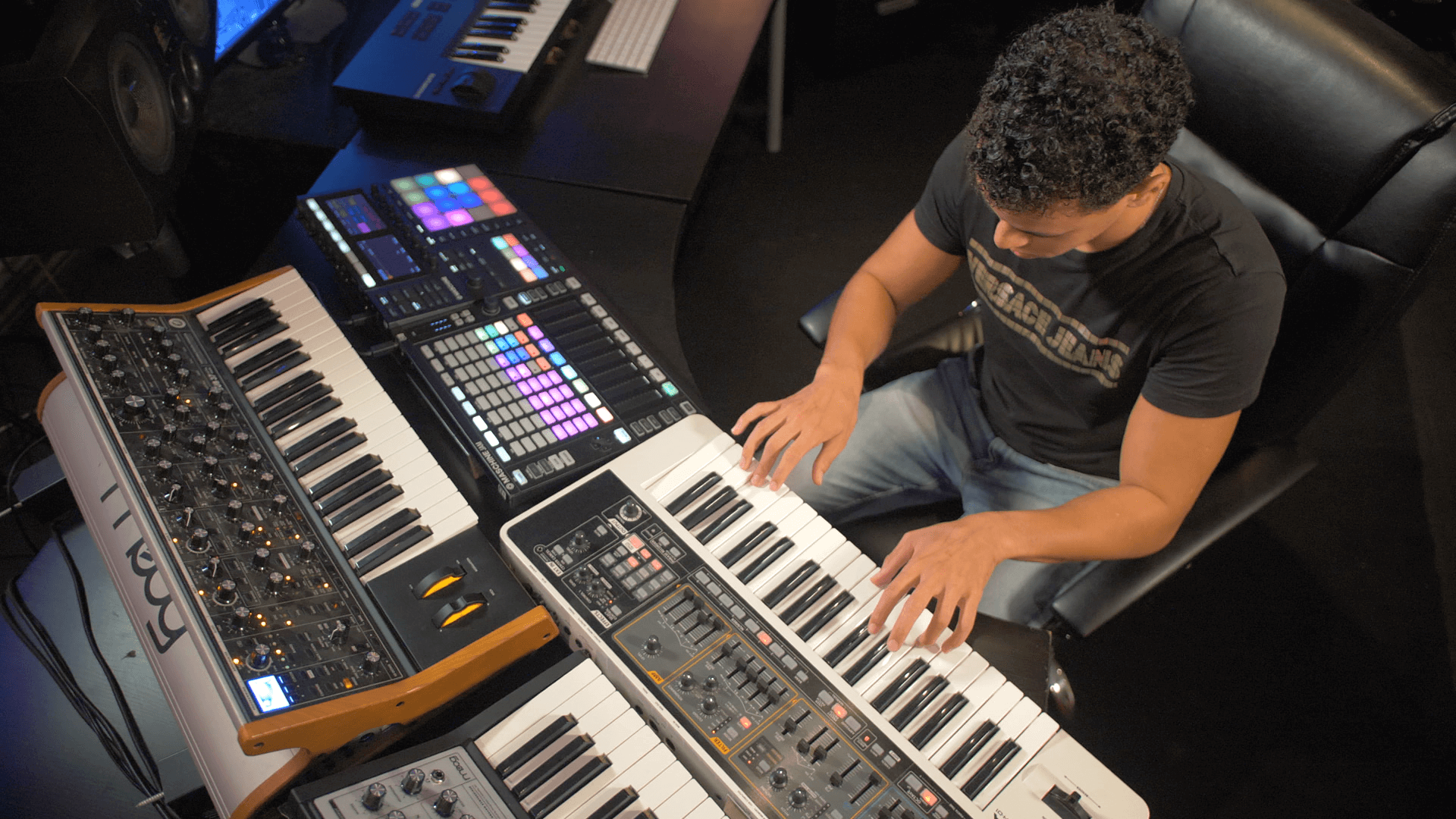 the full course year two as private lessons
It is also possible to follow the Full Course year 2 as private lessons. You will get the same student extras as regular Full Course year 2 students. Ask us for the conditions!
Besides the 40 classes, you will receive several extra's as a Full Course year 2 student. Including free studio time throughout the school year, free access to all of our events including guest workshops & masterclasses as well as discounts on software and hardware.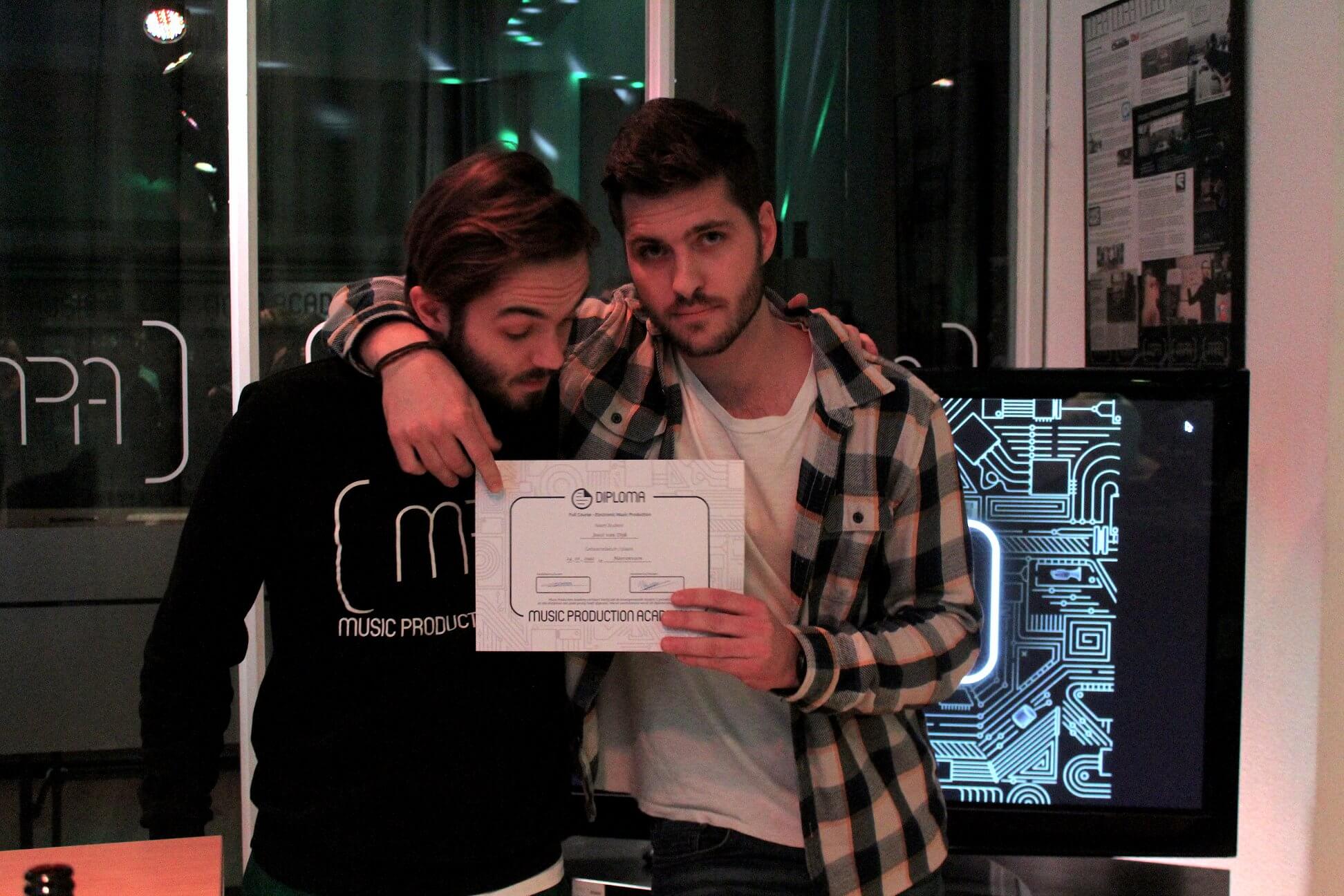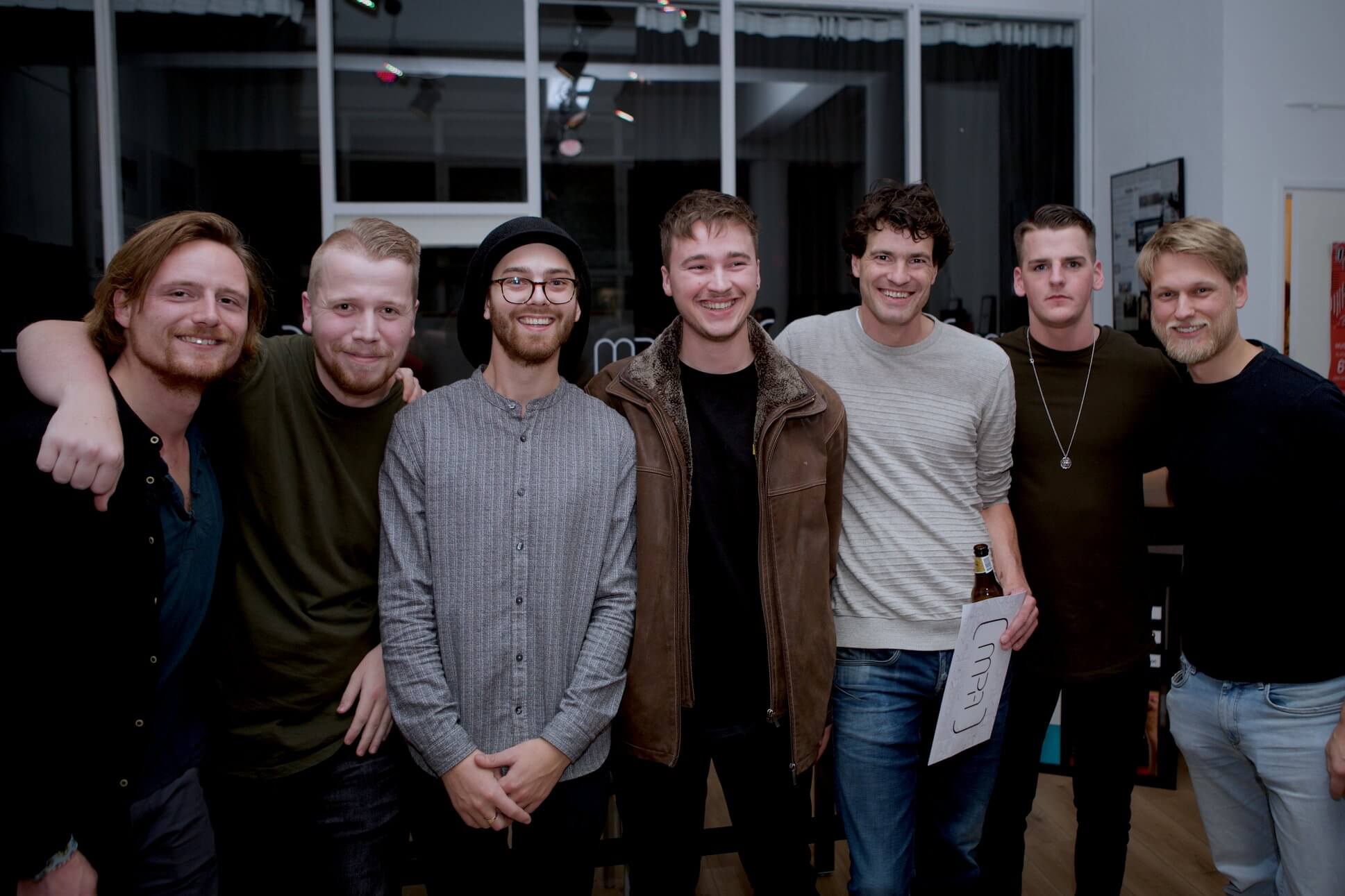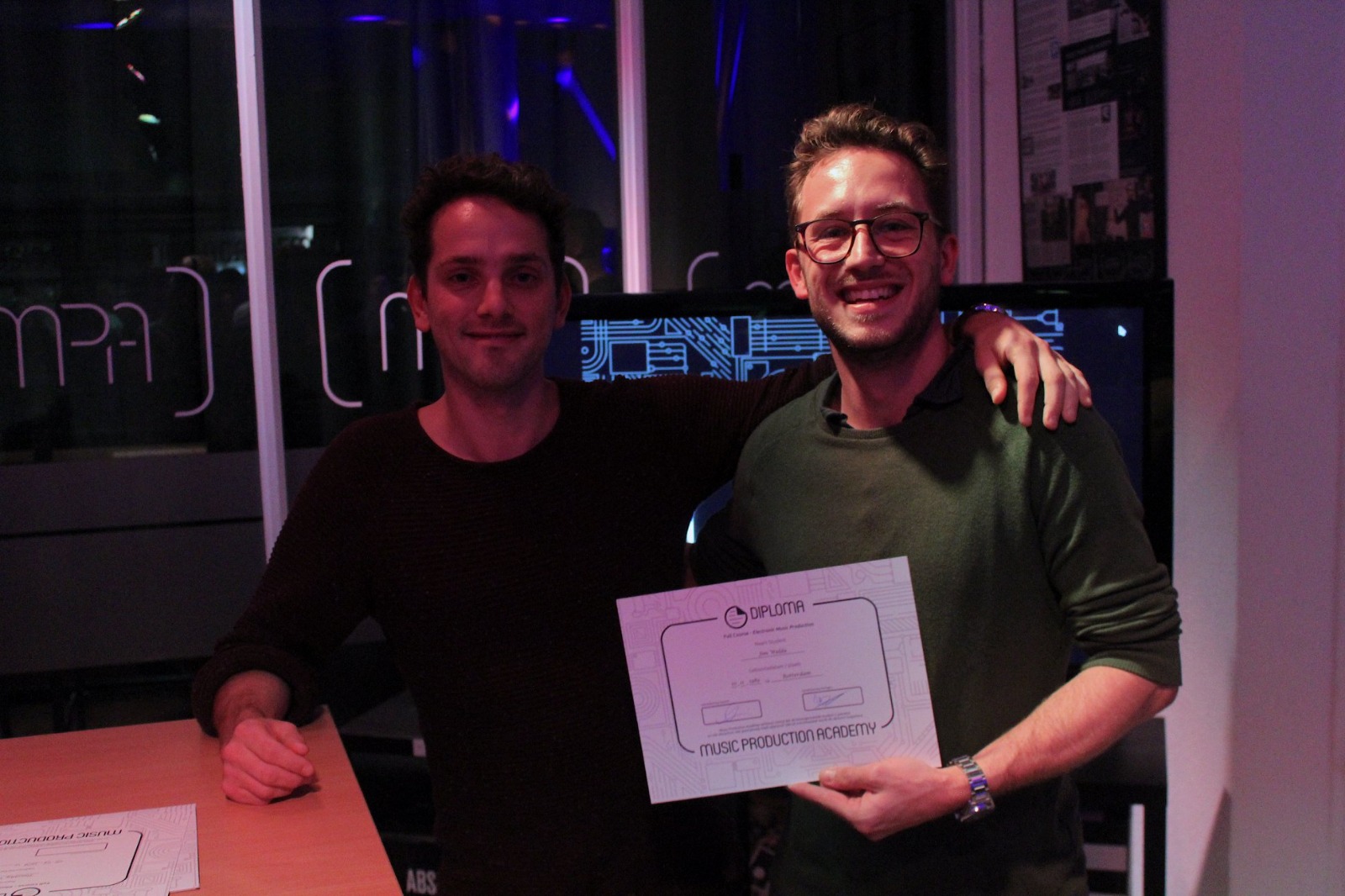 If you've already completed the first year of the Full Course, then you're eligible for Full Course year 2. If you believe that you're good enough of a producer that you can skip the first year, then you can audition for a spot in the Full Course year 2.